We will help you with Architectural projects & problems
Civil engineering project Order
Project Sara Institute (Project 1400) is ready to advise and implement your Civil project in any field, so in Project sara, civil engineers have come together to help us in this regard and take a step forward in society. One of the most special projects is Civil project.
Quick Order!
⇓By one of these five order ways⇓
What is Civil Engineering?
Civil engineering is a professional engineering discipline that deals with the design, construction, and maintenance of the physical and naturally built environment, including public works such as roads, bridges, canals, dams, airports, sewerage systems،railways, pipelines, structural components of buildings.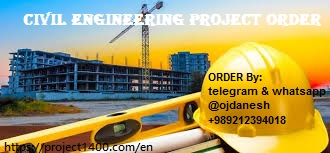 Hire an Civil Engineering!

At Project1400.com, you can hire an expert to do Civil projects. No matter how big your budget is, we have the right expert for your project.
For example, some civil engineering projects include:
Bridge analysis and design
Analysis and design of concrete and steel structures using SAP, ETABS, SAFE software and presentation of calculation booklet and executive plan

Analysis and design of special structures [shed, space structure (flat, double layer, dome with Formian software), billboard, mast, etc.]

Carrying out water and sewage projects with Watercad, WaterGams, Sewercad, Epanet, ModFlow software

Perform EXCEL + macro writing projects in Excel

Static and dynamic analysis of foundations
Online Ordering & Receiving In 4 Steps
Process of outsourcing from Project Serra Institute (Project 1400) from start to finish
Project sara is a international company by number of users and projects, since 2011.
Why us? 
Complete knowledge of Civil Engineering
As an engineer, have an idea of how things work
Cheap rates.
Includes revision
Easy to communicate with
Fast delivery
Comments will be also added in the script
Guaranteed full marks in assignments!
Posts related to this page: