We will help you with  Editing Thesis 
 Thesis
Editing
Order
Project Sara Institute (Project 1400) is ready to advise and implement your Thesis in any field, so in Project sara, experts have come together to help us in this regard , All of these experts have had unparalleled experience in this field.
⇓By one of these five order

ways⇓
What Is Editing Thesis?
Your editor will improve the language throughout your thesis, looking at everything from spelling and typos to sentence structure and word choices. Their mission: to help you avoid sloppy mistakes and ensure that your text fulfills all language requirements!
Hire a  Thesis
Editor
!
At Project1400.com, you can hire an expert to do  Thesis Editing. No matter how much your budget is, we have the right expert for your project.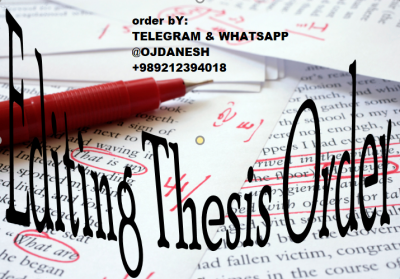 Specialized editing includes the following:
Technical edition of the dissertation

Writing dissertation text and simplifying sentence construction

Transliteration of translated texts

Fixed grammatical, structural and sentence errors

Remove duplicate, slang, incomplete words and phrases.

Shortening long sentences and connecting very short sentences to each other to integrate the structure of the dissertation
Technical editing includes the following:
Distance correction and half distance

Correction of punctuation marks (dots, commas, parentheses, punctuation, etc.)

Correction of numbers used

Corrective and decisive correction
Online Ordering & Receiving In 4 Steps
Process of outsourcing from Project Serra Institute (Project 1400) from start to finish
Project sara is a international company by number of users and projects, since 2011.
Why us? 
Complete knowledge of Thesis Editing
As an engineer, have an idea of how things work
Cheap rates.
Includes revision
Easy to communicate with
Fast delivery
Comments will be also added in the script
Guaranteed full marks in assignments!
Posts related to this page: