We will help you with Logo implementation
Project Sara Institute (Project 1400) is ready to advise and implement Logo implementation in any field, so in Project sara, experts have come together to help us in this regard , All of these experts have had unparalleled experience in this field, you can talk to our consultants and make your decision with your job description.
⇓By one of these five order

ways⇓
What Is Logo?
A logo identifies a company or product via the use of a mark, flag, symbol or signature.A logo does not sell the company directly nor rarely does it describe a business.Logo's derive their meaning from the quality of the thing it symbolises, not the other way around – logos are there to identity, not to explain.The purpose of a logo is to give a visual representation of your company brand. Your logo design should be unique, give high impact, be eye-catchy and leave an unforgettable impression. name and the products and services you provide. Your logo design should promote your business and build brand identity.One of the most popular types of logo design is logo implementation. The implementation of the logo is such that the customer sends us the desired design and idea about the logo, and exactly the same design is implemented in high quality specialized software.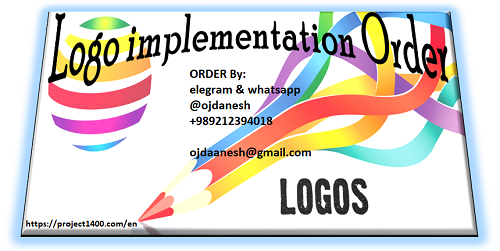 Hire a Logo implementation Expert!
At Project1400.com, you can hire an expert to do Logo implementation. No matter how much your budget is, we have the right expert for your project.
Online Ordering & Receiving In 4 Steps
Process of outsourcing from Project Serra Institute (Project 1400) from start to finish
Project sara is a international company by number of users and projects, since 2011.
Why us? 
Complete knowledge of Logo implementation.
As an engineer, have an idea of how things work
Cheap rates.
Includes revision
Easy to communicate with
Fast delivery
Comments will be also added in the script
Guaranteed full marks in assignments!
Posts related to this page: