We will help you with  statistics projects & problems
statistics project Order
Project Sara Institute (Project 1400) is ready to advise and implement your statistics project in any field, so in Project sara, experts have come together to help us in this regard , All of these experts have had unparalleled experience in this field, you can talk to our consultants and make your decision with description.
⇓By one of these five order

ways⇓
What Is statistics Project?
A statistical project is the process of answering a research question using statistical techniques and presenting the work in a written report. The research question may arise from any field of scientific endeavor, such as athletics, advertising, aerodynamics, or nutrition.Present your results. Report the specific findings of your research or experiment. This section of your report should be facts only, without any analysis or discussion of what those facts might mean. Start with your main results, then include subsidiary results or interesting facts or trends you discovered.
Hire a statistics Project Expert!
At Project1400.com, you can hire an expert to do statistics Projects. No matter how much your budget is, we have the right expert for your project.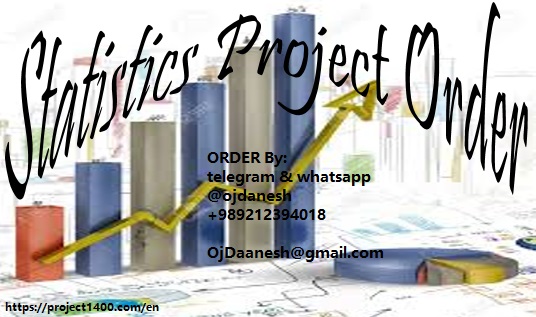 What Statistics Project is and How to Write It?
-Writing reports.
-Why the writing is important.
Step 1: The Abstract.
Step 2: The Introduction.
Step 3: Include a Literature Review.
Step 4: Discuss the Methods.
Step 5: Compile the Results Section.
Step 6: Make Your Conclusions.
Some orders accepted and done by Project 1400:
SPSS statistical analysis project
Inferential statistical project in psychology
Statistical project with 50 data
Score statistical project
University statistical project
Performing SPSS statistical project
Statistical data analysis
Statistical research
Inferential statistical research
Statistical inference of psychological inference
Statistical research with diagrams
Statistical research on unemployment
And dozens of research and statistical projects
Online Ordering & Receiving In 4 Steps
Process of outsourcing from Project Serra Institute (Project 1400) from start to finish
Project sara is a international company by number of users and projects, since 2011.
Why us? 
Complete knowledge of statistics Project
As an engineer, have an idea of how things work
Cheap rates.
Includes revision
Easy to communicate with
Fast delivery
Comments will be also added in the script
Guaranteed full marks in assignments!