We will help you with Business Plan projects & problems
Banner Design Order
Project Sara Institute (Project 1400) is ready to advise and implement Banner Design in any field, so in Project sara, experts have come together to help us in this regard , All of these experts have had unparalleled experience in this field, you can talk to our consultants and make your decision with your job description.
⇓By one of these five order

ways⇓
What Is Banner Design?
Banner design is a fundamental component of online branding. When marketing a business' products and services, catering to the visual component of the target audience's purchasing intent and behavior is a crucial factor. Banners are among the most prevalent forms of graphic design used to market services at present.A standard square banner is 4ft x 4ft. If you are going to hang it on top of a building you can adjust the size higher so long as the width and height are the same. Standard horizontal outdoor vinyl banners are 3ft x 10ft while horizontal banners are around 6ft x 2ft.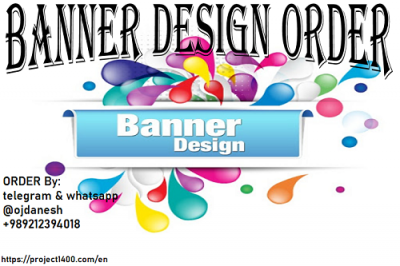 Effective Design Tips To Create Banner :
Prioritize And Structure The Elements Of Your Banner Ads Properly.
Use A Bold Call To Action Button.
Choose Your Images Wisely.
Use The Right Combination Of Colors.
Feature Metaphoric Or Surreal Visuals.
Create A Sense Of Movement.
Consider the text carefully. It is important that you use large, bold and readable font so that people can read it quickly and from a distance.
Keep the content simple.
Remember the key aim.
Use high-quality graphics.
Online Ordering & Receiving In 4 Steps
Process of outsourcing from Project Serra Institute (Project 1400) from start to finish
Project sara is a international company by number of users and projects, since 2011.
Why us? 
Complete knowledge of Banner Design.
As an engineer, have an idea of how things work
Cheap rates.
Includes revision
Easy to communicate with
Fast delivery
Comments will be also added in the script
Guaranteed full marks in assignments!
Posts related to this page: