We will help you with Electrical Engineering projects & problems
Electrical Engineering
project Order
Project Sara Institute (Project 1400) is ready to advise and implement your Electrical Engineering project in any field, so in Project sara, Electrical Engineers have come together to help us in this regard and take a step forward in society.One of the most special projects that has a relatively complex science is Electrical Engineering.
Quick Order!
⇓By one of these five order ways⇓
What Is Electrical Engineering?
An electrical engineer is someone who designs and develops new electrical systems, solves problems and tests equipment. They study and apply the physics and mathematics of electricity, electromagnetism and electronics to both large and small scale systems to process information and transmit energy.
Hire an
Electrical Engineer
!
At Project1400.com, you can hire an Electrical Engineer. No matter how much your budget is, we have the right expert for your project.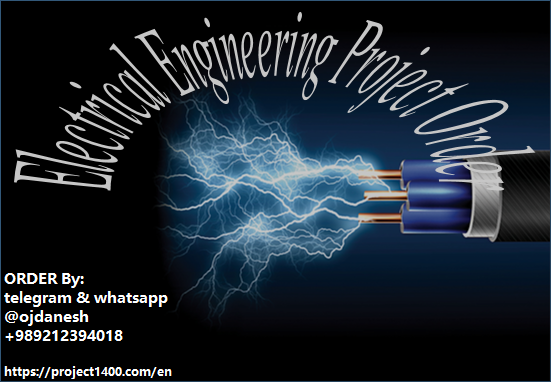 Electrical engineering projects in the  project sara are accepted in any trend and with any software and are done by the best specialists who have graduated from the best universities in the country. Some of the orders that have been placed include:

Do a programming project
Carrying out an electronic project

Carrying out control electrical engineering project

Carrying out power electrical engineering project

Carrying out a telecommunications project

Carrying out the MATLAB project

Carrying out electrical engineering student project

Build a robot

Build a controller

Making a joystick
Simulation in MATLAB Simulation in hspice

Simulation in ise xilink

Simulation in Proteus


Simulation in ModelSim

Simulation of bipolar systems

Simulation of linear and nonlinear systems in MATLAB

Any kind of simulation in MATLAB including quadcopters and electric machines and even robots

Making printed boards

Making a printer
Specialized services by Project Sara Institute
Perform image processing
Perform signal processing and systems
Perform linear and nonlinear control tasks
Simulation of telecommunication sending and receiving systems, modulation issues
Voice analysis and sound signal parameter analysis
Simulation of telecommunication channels such as noise channel and feeding channel
Wave system simulation
Coupler design, circulator, power division
Simulation of source and channel coding system
Problem analysis in the field of signal processing
Antenna design
Performing electrical projects in software:
Programming in borland
C programming
C ++ programming
Avr programming
Arduino programming
Online Ordering & Receiving In 4 Steps
Process of outsourcing from Project Serra Institute (Project 1400) from start to finish
Project sara is a international company by number of users and projects, since 2011.
Why us? 
Complete knowledge of Electrical Engineering
As an engineer, have an idea of how things work
Cheap rates.
Includes revision
Easy to communicate with
Fast delivery
Comments will be also added in the script
Guaranteed full marks in assignments!
Posts related to this page: